In April, the first case of H1N1 influenza in the United States was identified in our home state of California. The threat to the public health is serious, with more than 300 deaths already reported in California, including seven San Franciscans. Preventive measures can be vital to drastically reducing the likelihood of contracting the infection.
Since the outbreak of H1N1 flu, Congress has provided $7.7 billion in emergency funding to combat this epidemic. I have closely monitored the situation and will continue to receive briefings from public health officials on this critical issue.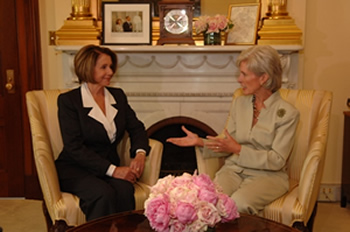 Speaker Pelosi meets with Health and Human Services Secretary Kathleen Sebelius.
What are the symptoms of H1N1?
The Centers for Disease Control and Prevention (CDC) state that the symptoms of H1N1 flu are similar to the symptoms of seasonal flu and include: fever, cough, sore throat, runny nose, body aches, headache, chills and fatigue, and sometimes diarrhea and vomiting. If you are in a high-risk category or become ill you should contact your doctor immediately.
Protecting against the H1N1 virus:
Wash your hands often with soap and water or alcohol-based cleaners.
Cover your nose and mouth when you sneeze and cough.
If you get sick, stay home and rest.
For more prevention information, please visit the San Francisco Public Health Department's Infect Me Not website.
Getting Vaccinated
The most effective way to avoid the H1N1 virus is to get the vaccine. Vaccine supplies are currently limited to the following high-risk groups:
Infants under six months
Parents and caregivers of children under six months
Children aged six months to 25 years old
Adults aged 25 to 64 with underlying medical conditions that put them at risk of infection
Pregnant women
Health care workers
More than 100,000 doses of the vaccine have already arrived in San Francisco, and public health authorities have assured me that in time all individuals wishing to receive a vaccination will be able to get one. To find vaccine availability visit H1N1 Flu Vaccine Availability in San Francisco. If you have questions or concerns about the vaccine, visit H1N1 and Seasonal Flu Vaccine Frequently Asked Questions.
Where do I get more information?
Don't Forget about the Seasonal Flu
While we are focused on the H1N1 flu, please do not forget about seasonal flu season. Every year more than 200,000 individuals are hospitalized with complications from the seasonal flu and more than 36,000 people in the U.S. die from the virus. Consider being vaccinated for the seasonal flu.
New San Francisco Office
My San Francisco Congressional Office has moved. We are now located in the new Federal Building at 90 7th Street, Suite 2-800, San Francisco, California 94103. The phone number will remain the same, 415-556-4862.
Please feel free to forward this information to your family and friends.  To learn more about these efforts, to express your views, or to sign up for email updates, please visit my Web site.
 


Sincerely,

Member of Congress