WASHINGTON (RushPRnews) 01/09/09-On Tuesday, we welcomed a new Congress that will have a strong commitment to work in a bipartisan way, with transparency, civility and fiscal discipline to improve the lives of the American people and their families.  The 111th Congress is ready to hit the ground running to work with President-elect Barack Obama to restore our country's economy and ensure equal pay for equal work.
Working to Restore Our Economy
With 2.6 million jobs lost in 2008 and an unemployment rate of 7.2 percent, the American people have inherited an economy from the Bush Administration that is in the depth of recession.  Our nation needs a bold economic recovery and reinvestment plan that will create American jobs and put our nation back on track to prosperity.
On Wednesday, Steering and Policy Committee co-chairs Congressman George Miller, Congresswoman Rosa DeLauro and I convened a forum, which featured a panel of economists and experts in infrastructure investments, to brief lawmakers on the latest economic outlook and components that should be included in the upcoming economic recovery and reinvestment plan. Economists warned that, unless comprehensive and immediate action is taken, the economy will shed another 3 million jobs in 2009 and the unemployment rate will top 10 percent.
The American people are facing an economic crisis that has not been seen in a generation and must be addressed in the present and prevented in the future.  A bold economic recovery and reinvestment package will help put Americans back to work by investing in our infrastructure and creating the new green jobs that the world economy is demanding.  We look forward to working in the days ahead with President-elect Barack Obama so we have legislation before we observe President's Day in February, and if necessary, we will not recess until it is completed.
Ensuring Equal Pay for Equal Work
More than 40 years after the passage of the Equal Pay Act and Title VI, women continue to be paid less for performing the same job as their male counterparts.  On average, women earn only 78 cents for every dollar earned by a man.
Today, the House of Representatives passed the Lilly Ledbetter Fair Pay Act along with the Paycheck Fairness Act.  These are the first steps in ensuring equal pay for women in the workplace, which is a top priority of the 111th Congress.
Lilly Ledbetter Fair Pay Act:  This bill restores the law as it was prior to the narrowly-decided Supreme Court Ledbetter decision (5-4) in 2007.  That decision tossed aside the longstanding prior law and made it more difficult for women and other workers to pursue pay discrimination claims – stating a pay discrimination charge must be filed within 180 days of the employer's initial decision to pay an employee less.  The bill restores the prior law – providing that a pay discrimination charge must simply be filed within 180 days of a discriminatory paycheck.

Paycheck Fairness Act:Â  This bill puts sex-based pay discrimination on par with race-based pay discrimination, requiring that employers seeking to justify unequal pay must show that the disparity is not sex-based, but job-related.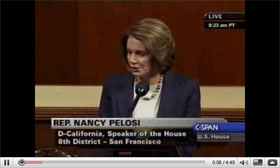 Click here to watch my statement supporting equal pay
Equal pay is not simply a women's issue, but a family issue.  The wage gap hurts everyone – husbands, wives, children, and parents – because it lowers family incomes that pay for essentials: groceries, doctors' visits and child care.  When women earn more, an entire family benefits.
Feel free to forward this information to your family and friends.  To learn more about these efforts, to express your views, or to sign up for email updates, please visit my Web site.
Sincerely,



Member of Congress