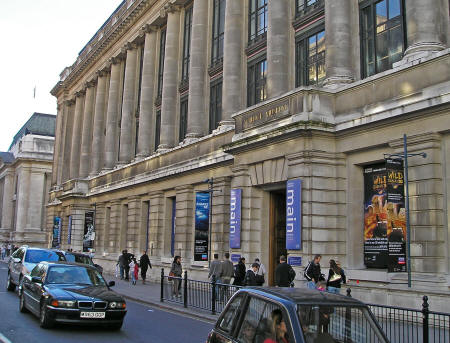 London's Science Museum opens its doors for its first late night event on 24 September 2008; adults can have the Museum all to themselves.
London, UK (RUSHPRNEWS)09/19/2008 — London's Science Museum is opening its doors for its first late night adults-only event. On 24 September 2008, adults can have the Museum, its world-class collections and interactive galleries, all to themselves in the first Science Museum Lates.

 London Science Museum Lates
The Science Museum will be offering robot racing, sci-fi films, tours, music and a bar all evening from 6.30-10pm. Adults can enjoy shameless playtime in the famous interactive gallery Launchpad – blowing bubbles, spinning like skaters and capturing multicoloured shadows – without having to let the kids go first!
Other activities taking place on the night include:
– Robot Racing – make and race your own robot with expert Noel Sharkey from TV's Robot Wars
– Sci-Fi adventures – Join the authors of new book 'Future World: When science fiction becomes science' to enjoy some classic sci-fi film clips and stimulating discussion
– Discover the world of Dan Dare – take a guided tour of the Museum's popular exhibition 'Dan Dare and the Birth of High-tech Britain' and discover how the comic book hero was an icon for the post-war decades
– A dance performance in three parts – see a fantastic dance performance choreographed by Athina Vahla, the Science Museum's dancer in residence
– Dance, drink and be merry! – jive to live music from Lynette Morgan and the Black Water Valley Boys and enjoy the bar open throughout the evening
– Twitter live – we'll be Twittering live from the event via the Science Museum Twitter channel.
Anthony Richards, Gallery Programmes Manager for the Science Museum, said, "The Science Museum is the best place in the world to enjoy science and our first Lates event promises to be a great evening with a very unique atmosphere. Our fascinating collections, exhibitions, and thought-provoking events already have great appeal with adults. And let's not be ashamed to say that everyone's a kid at heart and is itching to spend time playing in our Launchpad gallery! In true Science Museum style you'll probably learn something too…"
Entry is FREE, no booking necessary and for further information visit the Science Museum website or call 0870 870 4868. The Science Museum is open daily from 10am – 6pm and from 6.30-10pm on Wednesday 24th September. The nearest tube station is South Kensington.