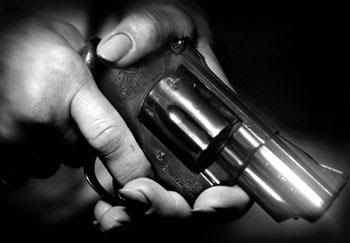 Washington D.C.(RUSHPRNEWS)08/30/2008- – The 10th Circuit Court of Appeals yesterday upheld a federal trial court ruling blocking a Wyoming law that would allow convicted domestic violence abusers to possess firearms. The court in Wyoming v. United States, as the Brady Center to Prevent Gun Violence had urged in its amicus brief, prohibited Wyoming from implementing its law to rearm domestic violence abusers.
The 10th Circuit ruling comes as the U.S. Supreme Court prepares to consider a case in its upcoming term concerning domestic violence abusers' gun possession, United States v. Hayes. The Brady Center filed a brief in Hayes urging the Supreme Court to overturn a circuit court ruling that could require that the names of thousands of dangerous abusers be purged from the federal Brady background check system.
Read the Brady Center's brief here.
Read the Court's ruling here.
Responding to the Wyoming ruling, Brady Center to Prevent Gun Violence Senior Attorney Daniel Vice stated, "This ruling is an important victory for the safety of our families and communities. We should not make it easier for dangerous domestic violence abusers to obtain dangerous firearms."
Federal law prohibits anyone convicted of a domestic violence misdemeanor from possessing firearms. In rare cases where criminals are pardoned or have convictions expunged, they may regain the right to own guns. Wyoming v U.S. concerned a Wyoming statute that allowed domestic violence abusers to regain their right to possess firearms by expunging misdemeanor abuse convictions, but only for purposes of getting a firearm. The federal Bureau of Alcohol, Tobacco, Firearms and Explosives (ATF) ruled that Wyoming could not expunge an abuser's record solely for purposes of getting a gun – either the person is a danger or he poses no threat and can have his conviction completely expunged. Wyoming sued to overturn ATF's ruling.
Nationwide, more than one-third of all homicides of female victims are caused by domestic violence abusers. Every year, between 1,000 and 1,600 women are killed by domestic violence abusers, and over two million people are assaulted by domestic abusers. Domestic violence situations are particularly dangerous for law enforcement as well, with 14 percent of police officer deaths occurring in response to domestic violence calls.
The Brady Center to Prevent Gun Violence is a national non-profit organization working to reduce the tragic toll of gun violence in America, through education, research, and legal advocacy. The programs of the Brady Center complement the legislative and grassroots mobilization of its sister organization, the Brady Campaign to Prevent Gun Violence with its dedicated network of Million Mom March Chapters.
Contact Communications:
(202) 289-7319