Can you imagine your life without ordering products online and have them delivered into your place? E-commerce is so widespread and popular that digital payment platforms are in great demand as well.
In due time we will discuss ways to create a bitcoin wallet app, and right now let's see what that digital stuff is all about.
How online e-wallets work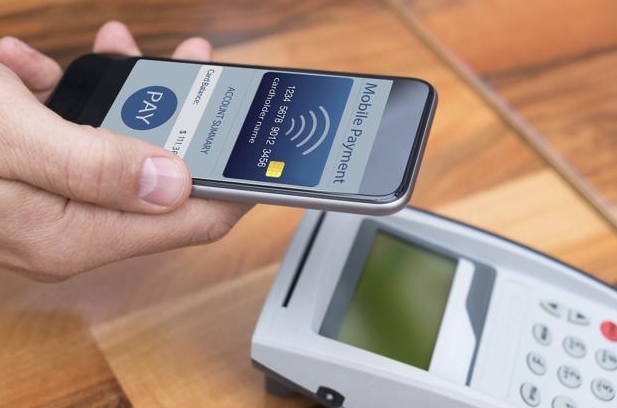 While usual pocket wallets store physical money, digital wallets take care of your currency in its virtual format.
It's quite simple. There is a specific app installed on the user's cell phone, and an electronic payment system operates by means of that app. Few factors influence the principle of its operation. Delivery technology and e-wallets classification approach are among of them.
Speaking of classification technique, let's have a look at three below-mentioned options:
Such technique serves as a perfect solution, in case a company decides to build an e-wallet service specifically for their clients. Thus, buyers can take advantage of given service only in the stores of that company. Walmart Pay is a bright example of such a platform.
Here, the system is more flexible, compared with the closed one. Customers get the possibility to use an online wallet platform in particular outlets that have concluded an agreement with a company which provides payment support services. The coverage area is still developing, thus, it doesn't comprise a large territory yet.
Mentioned method allows the audience to use their iOS and Android online wallets to pay for any products and services. The given approach ensures money withdrawal and funds transfers as well.
Best Digital Wallets Representatives
We would like to draw your attention to the following three best online wallets. Their advantages speak for themselves.
Payeer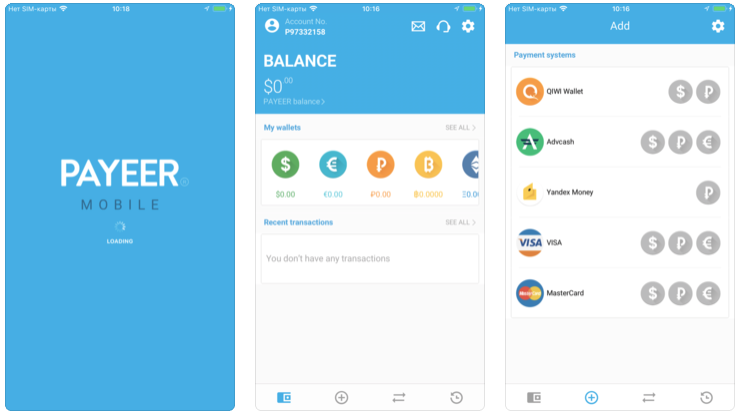 Payeer is a great service in demand worldwide. Those customers, who would rather prefer to stay anonymous while managing electronic funds operations, benefit from it the most. The platform is pretty simple to apply. It operates quickly and ensures proper security.
What Payeer offers
The account verification procedure is not mandatory.

The service doesn't impose any limitations.

Payeer manages to provide services to 15 million customers.

The platform doesn't charge any commissions.

Proper anonymity is provided.

Users won't face situations when their wallets are locked.

There are multiple ways to replenish a digital wallet account.
ePayments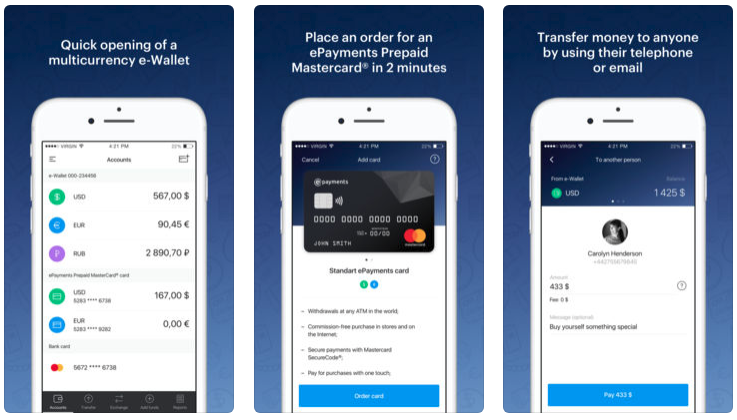 ePayments has been developed to handle electronic payment operations. More than 500 thousand clients from over 100 countries enjoy its services.
What ePayments offers
The account can be replenished in numerous ways.

ePayments is available in 5 different languages.

100 million funds transactions are performed yearly.

Even unverified audience have the possibility to withdraw their funds.

The service fits both iOS and Android.
Perfect Money
Perfect Money has great features which make it stand out from competitors. One of its vital functions is the possibility to perform different operations in a fully anonymous way, as clients identification is not required.
What Perfect Money offers
Commissions for the service is very low – 0,5% for verified users.

There is a possibility to purchase digital currencies online.

The platform performs over 40 million operations every day.

Perfect Money is completely secure to store money.

There is a wide selection of approaches to replenishing user account.

The service is very customer-friendly.
And now, when you understand what digital wallets refer to, let's talk on what to consider while building such a program. We have decided to borrow the development process of a bitcoin wallet platform as an example. However, before we proceed, it's necessary to say a few words on cryptocurrency wallets in general and bitcoin wallet platforms in particular.
Cryptocurrency wallets
Cryptocurrency is perceived as a kind of digital money. Such type of e-money has gained unbelievable popularity over recent years, and bitcoins are in demand the most. No need to mention that – being virtual – cryptocurrency requires e-wallets to handle the funds.
Honestly speaking, bitcoins are a particular case – they are not kept in the digital wallet, as they are located in the blockchain network. The wallet serves to provide specific keys – public and private – to deal with bitcoins.
While managing bitcoins, indeed, you need a cryptocurrency wallet, as it's the right tool to carry out all operations with that electronic money.
What bitcoin wallet is
Simply consider cryptocurrency wallet as a certain means to access the Bitcoin network. To monitor your e-money you require to have private keys – specific secret codes to conduct operations with your bitcoins. Those bitcoin wallets contain such keys.
As a matter of fact, it's not the bitcoins you should keep an eye on – the key challenge is to make sure that private keys are properly secured, as they are the tools to open access to carry out transactions with the bitcoins.
Basically, bitcoin wallet is a program which contains electronic keys and grants access to manage your bitcoins. Given service also gives data on cryptocurrency available.
Bitcoin application designing
Developing a bitcoin wallet might be much easier than you think. There are approaches to arrange the procedure in a smooth way.
# Free libraries
Such services are to facilitate development. The tool will synchronize an app with blockchain. Those libraries are to simplify transaction processes.
Presently, there are so many of those libraries. We would recommend you to consider two options mentioned below.
The platform offers the possibility to buy and sell bitcoins for different currencies. You can carry out any transactions with bitcoins. The library allows installing cryptocurrency payment option. Nevertheless, before being able to do anything here, you have to be registered.
Given cross-platform solution is perfect for Windows and Android. Such tool helps in developing new wallets or dealing with already existing services. You can easily send and receive bitcoins. You can see the balance to control it. It allows you to adjust the transaction confirmation technique.
Applying libraries with open code sources might seem to be so tempting. Nevertheless, if you are striving to come up with a digital wallet platform to meet all your demands, you have to find another way to do so – with no open code systems.
Such an approach will definitely be more difficult, time and money consuming, but, at the same time, you will be satisfied with the result, so expenses worth it. You also have to realize that most likely you gonna need professional assistance to build such bitcoin app. It's your decision which approaches to choose.
# Development stages
Whichever way you decide to take, you won't avoid the next steps:
synchronization with blockchain by means of API;

building the wallet for cryptocurrency;

setting up the possibility to perform outgoing and incoming operations;

installing usual systems to monitor operation processes.
Keep it in mind, that if you don't have enough experience in the field, you better go for libraries. Nonetheless, even with the mentioned simple approach, you might need the help of experts.
# Bitcoin payment integration
In case you are pretty limited with your budget, there is the third direction to choose. It's not the best variant, however, let's take a quick pick on it.
That would be the right choice for companies which don't require complicated multifunctional system when it doesn't make any sense to build a separate app. The way out would be to take already made platform and to integrate a payment system into it. You would be surprised, but Amazon did it at one time.
Kindly note that mentioned approach is good to deal with minor and narrow company's issues.
# Qualified assistance
In case you decide to address to experienced IT specialists to help you design bitcoin service, you will need such pros, as:
UI/UX designers

to build the right interface;

Developers

themselves to ensure service operation;

QA experts

to conduct testings of the final product.
We hope that our tips were useful to you, and we know that you will find the best solution for your own case. Good luck!