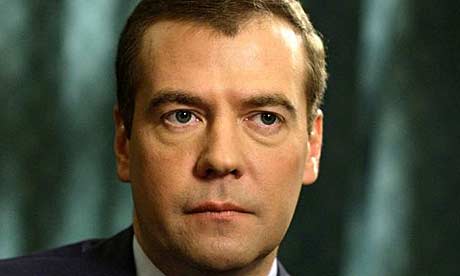 France: Russia to Begin Georgia Troop Pullout Monday
PARIS,FRANCE (RUSHPRNEWS) 17 August 2008–France says Russian President Dmitri Medvedev has promised that Russian troops will begin leaving Georgia at mid-day Monday. The office of French President Nicolas Sarkozy says the withdrawal commitment came Saturday in a telephone call between the French and Russian leaders. Mr. Sarkozy's office says he warned Mr. Medvedev of "serious consequences" if Moscow fails to implement the cease-fire deal signed Saturday.
Russian troops on Saturday began drawing back from the center of Igeoti, a town only about 50 kilometers outside the Georgian capital, Tbilisi.
In Washington Sunday, U.S. Secretary of State Condoleezza Rice said the cease-fire calls for troops from both sides to pull back to positions held before the outbreak of hostilities August seventh. She said the cease-fire permits a limited number of Russian peacekeepers to stay temporarily in some areas, until European monitors arrive.
But she said the deal does not permit the Russians to block Georgia's main east-west highway or to enter Georgian urban areas.
In Tbilisi, Georgian President Mikheil Saakashvili repeated his vow that Georgia will never give up any of its territory, an apparent reference to the pro-Russian breakaway Georgian territories of South Ossetia and Abkhazia. He spoke alongside visiting German Chancellor Angela Merkel.
Russian diplomats have said Russia will never abandon Russian-speaking populations in those territories.
Combat erupted nearly two weeks ago between Georgian troops and separatists in South Ossetia. Georgian forces say they acted after coming under Russian fire. Russia, which launched an invasion last week, says it acted to protect its citizens in South Ossetia.
The U.S. military and the United Nations refugee agency have promised to send more supplies into Georgia, to help the estimated 120,000 people displaced by the conflict.
news source: VOA News