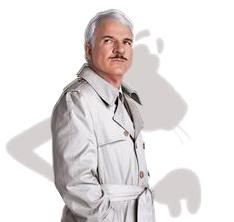 LOS ANGELES, CA (rushprnews) July 30, 2007–True to the spirit of Saturday Night Live, "wild and crazy guy" Steve Martin surprised guests attending a party at his house when girlfriend Anne Stringfield made a grand entrance wearing a Vera Wang wedding gown.
He proceeded to marry her, at his Los Angeles home. The ceremony was performed by former Nebraska Sen. Bob Kerrey, a long-time friend of Martin. Saturday Night Live creator Lorne Michaels was Martin's best man.
Most of the roughly 75 guests — who included Tom Hanks, Diane Keaton, Eugene Levy, Carl Reiner and Ricky Jay, were completely taken by surprise by the nuptials.
Martin,61, has been dating the New Yorker fact-checkers Stringfield, 35, since 2002. He was previously married to L.A. Story co-star Victoria Tennant for 8 years. This is Stringfield first mariage. He has been reported as saying "don't care if she's blond, brunette or green, as long as she laughs at my jokes". Martin was wearing his Inspecteur Clouseau's trademark mustach, which he has grown for the movie sequel, presently in production.
FILMOGRAPHY FROM IMDB
Films In Production (2 titles) Year MOVIE
Meter Status Budget
Traitor – Writer (idea), Executive Producer 2008 4,866 Pre-production
Untitled Pink Panther Sequel – Insp. Jacques Clouseau 2008 4,609 Pre-production
Past Films & Videos (43 titles) Year MOVIE
Meter Budget Opening
Weekend US Box
Office
The Pink Panther – Clouseau, Writer (screenplay) 2006 1,241 $80M $20.2M $82.2M
Cheaper by the Dozen 2 – Tom Baker 2005 841 $15.3M $82.6M
Shopgirl – Ray Porter, Writer (novel "Shopgirl") (screenplay), Producer 2005 1,797 $230K $10.3M
White Noise – Soundtrack (writer: "In My Nursery") 2005 1,818 $10M $24.1M $55.9M
Jiminy Glick in Lalawood – Himself, Special Thanks 2004 11,246 $25.7K $25.7K
Cheaper by the Dozen – Tom Baker 2003 782 $40M $27.6M $139M
Looney Tunes: Back in Action – Mr. Chairman 2003 4,314 $80M $9.32M $21M
Bringing Down the House – Peter Sanderson 2003 3,213 $35M $31.1M $133M
Novocaine – Dr. Frank Sangster 2001 1,931 $6M $418K $2.03M
Morto the Magician (short) – Writer 2001 104,558
Joe Gould's Secret – Charlie Duell 2000 16,455 $38.8K $641K
Bowfinger – Bobby Bowfinger, Writer (written by) 1999 3,976 $55M $18.1M $66.4M
The Out-of-Towners – Henry Clark 1999 8,908 $40M $8.22M $28.5M
The Prince of Egypt – Hotep (voice), Soundtrack (performer: "Playing With The Big Boys") 1998 2,209 $60M $14.5M $101M
The Spanish Prisoner – Julian 'Jimmy' Dell 1997 3,540 $124K $10.2M
Fierce Creatures – Thanks 1997 8,134 $3.76M $9.2M
Sgt. Bilko – Master Sergeant Ernest G. Bilko 1996 7,699 $39M $30.4M
Father of the Bride Part II – George Banks 1995 4,863 $30M $76.6M
Mixed Nuts – Philip 1994 5,173 $6.8M
A Simple Twist of Fate – Michael McCann, Writer (written by), Executive Producer 1994 10,535 $3.43M
Leap of Faith – Jonas Nightengale 1992 8,323 $23.4M
HouseSitter – Newton Davis 1992 7,463 $58.5M
Grand Canyon – Davis 1991 5,015 $33.2M
Father of the Bride – George Stanley Banks 1991 2,547 $89.3M
L.A. Story – Harris K. Telemacher, Writer (written by), Executive Producer 1991 4,364 $28.9M
My Blue Heaven – Vincent 'Vinnie' Antonelli 1990 7,326 $23.6M
Parenthood – Gil Buckman 1989 2,010 $100M
Dirty Rotten Scoundrels – Freddy Benson 1988 4,087 $42M
Planes, Trains & Automobiles – Neal Page, Soundtrack (performer: "I Can Take Anything" (1987)) 1987 3,138 $49.2M
Roxanne – C.D. 'Charlie' Bales, Writer (screenplay), Executive Producer 1987 6,379 $40.1M
Little Shop of Horrors – Orin Scrivello, DDS, Soundtrack (performer: "Dentist!") 1986 2,123 $30M $38.7M
¡Three Amigos! – Lucky Day, Writer (written by), Executive Producer, Soundtrack (performer: "THE BALLAD OF THE THREE AMIGOS", "MY LITTLE BUTTERCUP", "BLUE SHADOWS") 1986 2,943 $25M $39.2M
Steve Martin Live (video documentary) – Himself, Writer, Soundtrack (writer: "Knowledge Medley", "Creativity In Action", "Grandmother's Song", "King Tut") (performer: "Knowledge Medley", "Creativity In Action", "Grandmother's Song", "King Tut"), Director ("Hommage to Steve" – comedians' segment) 1986 92,424
Movers & Shakers – Fabio Longio 1985 24,746
All of Me – Roger Cobb 1984 7,405
The Lonely Guy – Larry Hubbard 1984 12,391 $4.8M
The Man with Two Brains – Dr. Michael Hfuhruhurr, Writer (written by) 1983 6,639 $10.1M
Dead Men Don't Wear Plaid – Rigby Reardon, Writer (written by) 1982 8,886 $4.29M $17M
Pennies from Heaven – Arthur Parker, Soundtrack (performer: "PENNIES FROM HEAVEN", "LET'S FACE THE MUSIC AND DANCE") ("I'LL NEVER HAVE TO DREAM AGAIN", "YES, YES!", "DID YOU EVER SEE A DREAM WALKING?", "IT'S THE GIRL", "LIFE IS JUST A BOWL OF CHERRIES", "The Story, Glory of Love") 1981 8,357 $22M $3.6M
The Jerk – Navin R. Johnson/Cat Juggler/Pig Eye Jackson/Engineer Fred (also as Pig Eye Jackson), Writer (screenplay) (story), Soundtrack (performer: "You Belong To Me") 1979 2,680
The Muppet Movie – Insolent Waiter 1979 5,359 $76.7M
Sgt. Pepper's Lonely Hearts Club Band – Dr. Maxwell Edison, Soundtrack (performer: "Maxwell's Silver Hammer") 1978 7,529 $18M $12.9M
The Absent-Minded Waiter (short) – Steven, Writer 1977 34,365
Past Television (29 titles) Year MOVIE
Meter User
Rating User
Votes
Mindy and Brenda (TV movie) – Executive Producer 2006 46,989
The Scholar (TV series) – Executive Producer (6 episodes, 2005) 118,601 1.6 9
Episode #1.6 – Executive Producer 2005
Episode #1.5 – Executive Producer 2005
Episode #1.4 – Executive Producer 2005
Episode #1.3 – Executive Producer 2005
Episode #1.2 – Executive Producer 2005
(1 more)
The 75th Annual Academy Awards (TV special documentary) – Himself – Host, Writer (special material written by) 2003 19,715 6.0 586
The Downer Channel (TV series) – Executive Producer (unknown episodes), Writer (unknown episodes) 2001 98,641 8.5 6
Saturday Night Live: The Best of Steve Martin (TV special) – Writer 1999 44,134 7.3 216
The Simpsons (TV series) – Ray Patterson (1 episode, 1998) 40
Trash of the Titans – Ray Patterson (voice) 1998 8.2 118
And the Band Played On (TV movie) – The Brother 1993 7,190 7.6 3,684
The Tracey Ullman Show (TV series) – Rusty the Choreographer (1 episode, 1987) 6,721 7.1 69
Meg's Lucky Night – Rusty the Choreographer 1987
Leo & Liz in Beverly Hills (TV series) – Executive Producer 1986 354,808
George Burns Comedy Week (TV series) – Director (1 episode, 1985), Executive Producer (unknown episodes) 71,785
The Couch – Director 1985
The Jerk, Too (TV movie) – Executive Producer 1984 31,565 3.3 103
Domestic Life (TV series) – Executive Producer (unknown episodes) 1984 143,710
Twilight Theater (TV movie) – Various Characters 1982 53,933 6.7 8
Steve Martin's Best Show Ever (TV movie) – Himself/Various, Writer 1981 31,234 7.8 35
All Commercials… A Steve Martin Special (TV movie) – Himself/Various, Writer 1980 85,609 7.0 13
Steve Martin: Comedy Is Not Pretty (TV movie) – Himself/Various, Writer, Soundtrack (writer: "Drop Thumb Medley") (performer: "Born To Be Wild", "Drop Thumb Medley") 1980 82,905 7.4 39
Steve Martin: A Wild and Crazy Guy (TV movie) – Himself/Various, Writer 1978 65,568 7.0 15
Rolling Stone Magazine: The 10th Anniversary (TV movie) – Himself, Writer 1977 115,180
On Location: Steve Martin (TV movie) – Himself, Writer 1976 148,239 6.2 10
The Sonny and Cher Show (TV series) – Writer (unknown episodes) 1976 35,352 6.8 24
Johnny Cash and Friends (TV series) – Actor 1976 66,886 8.1 12
Van Dyke and Company (TV special) – Writer 1975 208,365 6.5 8
The Smothers Brothers Show (TV series) – Regular Performer 1975 134,379 6.9 13
The Funnier Side of Eastern Canada (TV movie) – Himself, Writer 1974 196,235 6.1 10
The Ken Berry 'Wow' Show (TV series) – Regular (unknown episodes, 1972) 1972 105,212 5.1 7
The Sonny and Cher Comedy Hour (TV series) – Various Characters (2 episodes, 1972-1973) 31,247 6.8 42
Episode #2.13 – Various Characters 1972
Episode #2.8 – Various Characters 1972
Half the George Kirby Comedy Hour (TV series) – Actor 1972 138,667
The Ray Stevens Show (TV series) – Regular Performer 1970 104,715
The Glen Campbell Goodtime Hour (TV series) – Writer (unknown episodes) 1969 63,251 5.2 11
Self (94 titles) Year MOVIE
Meter User
Rating User
Votes
Late Show with David Letterman (TV series) – Himself (3 episodes, 2005-2007) 3,151
Episode dated 26 April 2007 – Himself 2007
Episode dated 10 November 2005 – Himself 2005
Episode dated 21 September 2005 – Himself 2005
Cutting Edge Comedians of the '60s and '70s (video) – Himself 2007 177,525
Ellen: The Ellen DeGeneres Show (TV series) – Himself (1 episode, 2007) 4,335
Episode dated 4 February 2007 – Himself 2007
Saturday Night Live (TV series) – Himself – Host / Himself / Himself – Co-Host (19 episodes, 1976-2006), Georg Festrunk (1 episode, 1998) 579 7.8 1,575
Alec Baldwin/Christina Aguilera – Himself (uncredited) 2006 7.4 15
Steve Martin/Prince – Himself – Host 2006 4.3 9
Christopher Walken/Foo Fighters – Himself (uncredited) 2003 3.0 8
Cameron Diaz/Smashing Pumpkins – Georg Festrunk (uncredited) 1998 5.4 5
Steve Martin/Eric Clapton – Himself – Host 1994 6.4 7
(15 more)
The 78th Annual Academy Awards (TV special documentary) – Himself, in opening segment (uncredited) 2006 9,298 5.9 387
Paris derni̬re (TV series documentary) РHimself (1 episode, 2006) 104,565
Episode dated 3 March 2006 – Himself 2006
Biography (TV series) – Himself (1 episode, 2006) 4,874 7.5 80
Steve Martin – Himself 2006
The View (TV series) – Himself (2 episodes, 2003-2005) 3,143 3.2 786
Episode dated 22 December 2005 – Himself 2005
Episode dated 26 February 2003 – Himself 2003
Live with Regis (TV series) – Himself (2 episodes, 2005) 3,393 3.6 144
Episode dated 20 December 2005 – Himself 2005
Episode dated 11 November 2005 – Himself 2005
The Tonight Show with Jay Leno (TV series) – Himself (1 episode, 2005) 2,339
Episode dated 13 December 2005 – Himself 2005
Earth to America (TV movie) – Himself 2005 29,147 3.8 43
The Mark Twain Prize: Steve Martin (TV documentary) – Self 2005 241,307
The WIN Awards (TV documentary) – Himself 2005 58,519 2.0 14
Magacine (TV series) – Himself (1 episode, 2005) 52,341
Episode dated 23 September 2005 – Himself 2005
Corazón de… (TV series) – Himself (1 episode, 2005) 9,292 2.9 28
Episode dated 12 September 2005 – Himself 2005 2.3 5
Disneyland: The First 50 Magical Years (documentary short) – Himself 2005 48,709 6.9 31
Live from New York: The First 5 Years of Saturday Night Live (TV documentary) – Himself 2005 43,108 6.9 58
Steve Martin: An American Cinematheque Tribute (TV movie) – Himself 2005 182,697
Great Performances (TV series) – Himself (1 episode, 2004) 9,827 7.9 21
Bill Irwin: Clown Prince – Himself 2004
Tinseltown TV (TV series) – Himself (1 episode, 2004) 31,531
Episode dated 17 January 2004 – Himself 2004
Player$ (TV series) – Himself (1 episode, 2003) 27,470 1.5 6
Gladiator Radio – Himself 2003
Extra: The Entertainment Magazine (TV series) – Himself (1 episode, 2003) 18,805
Episode dated 15 October 2003 – Himself 2003 2.0 12
Entertainment Tonight (TV series) – Himself (1 episode, 2003) 4,263 3.5 181
Episode dated 13 October 2003 – Himself 2003 4.5 8
Ask Rita (TV series) – Himself (1 episode, 2003) 133,867
Episode dated 3 May 2003 – Himself 2003
100 Years of Hope and Humor (TV special) – Himself 2003 98,872 3.2 106
Reel Comedy: Bringing Down the House (TV short) – Himself 2003 213,880 5.8 11
HBO First Look (TV series documentary) – Himself (1 episode, 2003) 6,043 4.9 45
Looney Tunes: Back in Action – Himself 2003
The Kennedy Center Honors: A Celebration of the Performing Arts (TV movie) – Himself 2002 240,447 4.8 17
Smothered: The Censorship Struggles of the Smothers Brothers Comedy Hour (TV documentary) – Himself (interviewee, 2000 U.S. Comedy Arts Festival footage) (uncredited) 2002 90,444 7.4 63
Comedy Central Presents: The N.Y. Friars Club Roast of Chevy Chase (TV movie) – Himself 2002 39,631 6.4 40
AFI Life Achievement Award: A Tribute to Tom Hanks (TV special) – Himself 2002 66,632 4.7 109
Gilda Radner's Greatest Moments (TV special) – Himself/Various 2002 97,845 7.0 15
The Rutles 2: Can't Buy Me Lunch (TV special) – Interviewee 2002 39,687 5.6 110
The British Comedy Awards 2001 (TV special) – Himself 2001 164,303 4.2 19
Primetime Glick (TV series) – Himself (1 episode, 2001) 26,965 6.0 81
Bill Maher/Steve Martin – Himself 2001
The 73rd Annual Academy Awards (TV special) – Himself – Host 2001 34,925 5.8 592
Life, Death, and Damien (documentary) – Himself 2000 217,233
AFI's 100 Years, 100 Laughs: America's Funniest Movies (TV special documentary) – Himself 2000 34,935 5.6 227
Thin Ice (documentary) – Himself 2000 133,037 6.2 17
Fantasia/2000 – Himself – Introductory Host 1999 7,084 7.2 7,611
The Martin Short Show (TV series) – Himself (2 episodes, 1999) 40,615 2.4 7
Episode #1.41 – Himself 1999
Episode #1.2 – Himself 1999
The Venice Project – Himself 1999 35,477 6.4 71
The Howard Stern Radio Show (TV series) – Himself (1 episode, 1999) 16,386 4.4 77
Episode dated 1 May 1999 – Himself 1999
The Rosie O'Donnell Show (TV series) – Himself (2 episodes, 1998-1999) 7,236 3.7 260
Episode dated 31 March 1999 – Himself 1999
Episode dated 5 October 1998 – Himself 1998
The 71st Annual Academy Awards (TV special documentary) – Himself – Co-presenter: Writing Awards 1999 30,346 5.7 357
14th Annual TV Academy Hall of Fame (TV documentary) – Himself 1999 206,571
Saturday Night Live: Game Show Parodies (TV movie) – Himself/Various Characters 1999 30,594 7.1 147
The Directors (TV series documentary) – Himself (2 episodes) 26,023 6.7 35
The Films of Nora Ephron – Himself ????
The Films of David Mamet – Himself ????
From Spam to Sperm (TV movie) – Himself 1999 100,263 5.5 16
Saturday Night Live: 25th Anniversary (TV special) – Himself (also archive footage) 1999 16,429 7.5 663
Saturday Night Live: The Best of Chris Farley (TV special) – Himself (Various Characters) 1998 15,293 7.8 630
The 69th Annual Academy Awards (TV special documentary) – Himself 1997 34,383 5.8 225
The Works (TV series documentary) – Himself (1 episode, 1996) 120,204
The Actor's Cut – Himself 1996
Nichols and May: Take Two (TV special) – Himself 1996 124,413 3.9 10
Showbiz Today (TV series) – Himself (3 episodes, 1990-1996) 54,302 1.7 7
Episode dated 28 March 1996 – Himself 1996
Episode dated 20 October 1990 – Himself 1990
Episode dated 18 August 1990 – Himself 1990
American Masters (TV series documentary) – Himself (1 episode, 1996) 20,729 7.9 14
Take Two: Mike Nichols and Elaine May – Himself 1996
The Kennedy Center Honors: A Celebration of the Performing Arts (TV special) – Himself 1995 156,602 5.7 8
The 67th Annual Academy Awards (TV special) – Himself – Presenter: Best Editing 1995 29,679 6.0 295
The Martin Short Show (TV series) – Himself (1 episode, 1994) 88,722
The Steve Martin Show – Himself 1994
The 48th Annual Tony Awards (TV special) – Himself – Presenter 1994 147,824 6.8 5
Comic Relief VI (TV special documentary) – Self 1994 123,405 5.3 36
The Tonight Show Starring Johnny Carson (TV series) – Himself / Himself – Guest Host (44 episodes, 1972-1992) 6,297 8.0 161
Episode dated 6 May 1992 – Himself 1992
Episode dated 19 December 1991 – Himself 1991
Episode dated 14 August 1990 – Himself 1990 3.6 6
Episode dated 30 August 1989 – Himself 1989
Episode dated 14 December 1988 – Himself 1988
(39 more)
Paul Simon: Born at the Right Time (TV documentary) – Himself 1991 186,928 7.1 10
The 5th Annual American Comedy Awards (TV movie) – Himself 1991 216,246
The South Bank Show (TV series documentary) – Himself (1 episode, 1991) 34,392 6.5 13
Steve Martin – Himself 1991
Late Night with David Letterman (TV series) – Himself (3 episodes, 1984-1991) 6,805 7.8 98
Episode dated 1 February 1991 – Himself 1991 8.0 10
Episode dated 1 October 1984 – Himself 1984
Episode dated 9 February 1984 – Himself 1984
The 62nd Annual Academy Awards (TV special) – Himself – Presenter: Best Original Score 1990 42,407 5.1 179
Life of Python (TV special documentary) – Himself 1990 79,563 7.7 115
Parrot Sketch Not Included: Twenty Years of Monty Python (TV special) – Himself/Host 1989 39,282 8.1 355
Saturday Night Live: 15th Anniversary (TV special) – Himself 1989 41,682 6.0 77
The 43rd Annual Tony Awards (TV special) – Himself – Presenter 1989 129,485
Learned Pigs and Fireproof Women (TV movie) – Himself and The Great Flydini 1989 194,032
The American Film Institute Salute to Jack Lemmon (TV special documentary) – Himself 1988 145,046 5.5 37
Looney Tunes 50th Anniversary (TV movie) – Himself 1986 59,474 6.5 20
The American Film Institute Salute to Gene Kelly (TV special documentary) – Himself 1985 117,492 6.5 56
The 57th Annual Academy Awards (TV special documentary) – Himself – Presenter: Best Art Direction 1985 71,086 5.0 69
The History of White People in America (TV movie) – Himself 1985 51,787 6.1 89
Muppet Video: Rowlf's Rhapsodies with the Muppets (video) – Himself 1985 124,598 4.6 22
The New Show (TV series) – Himself (2 episodes, 1984) 60,212 8.0 6
Episode #1.3 – Himself 1984
Episode #1.1 – Himself 1984
The American Film Institute Salute to Frank Capra (TV special documentary) – Himself 1982 133,108 6.6 59
The 53rd Annual Academy Awards (TV special) – Himself – Co-Presenter: Best Cinematography 1981 71,147 5.4 63
Johnny Cash: The First 25 Years (TV special) – Himself 1980 237,830
The Big Show (TV series) – Himself (1 episode, 1980) 56,547
Episode #1.1 – Himself 1980
The Kids Are Alright (documentary) – Himself 1979 18,459 7.8 1,105
The 51st Annual Academy Awards (TV special documentary) – Himself – Co-Presenter: Best Visual Effects 1979 45,721 6.1 61
The 21st Annual Grammy Awards (TV special) – Himself 1979 183,281 3.9 15
Bob Hope's Salute to the 75th Anniversary of the World Series (TV special) – Himself 1978 358,618 6.5 5
The 30th Annual Primetime Emmy Awards (TV special) – Himself 1978 213,653 5.4 17
The 20th Annual Grammy Awards (TV special) – Himself 1978 183,252 4.6 20
The Muppet Show (TV series) – Himself (1 episode, 1977) 4,906 8.9 634
Episode #2.8 – Himself 1977
Rocky Mountain Christmas (TV movie) – Himself 1975 118,321 5.6 8
Cher (TV series) – Himself (1 episode, 1975) 45,767 6.9 13
Episode #2.9 – Himself 1975
The Dating Game (TV series) – Himself (1 episode, 1970) 18,135 5.0 28
Episode dated 16 March 1970 – Himself (uncredited) 1970
The Smothers Brothers Comedy Hour (TV series) – Himself (4 episodes, 1968-1969), Writer (unknown episodes) 28,147 8.7 41
Episode #3.17 – Himself 1969
Episode #3.14 – Himself 1969
Episode #3.10 – Himself 1968
Episode #3.3 – Himself 1968
Archive Footage (26 titles) Year
100 Greatest Stand-Ups (TV documentary) – Himself 2007
All the Best from Denis Norden (TV documentary) – Himself (uncredited) 2007
Saturday Night Live: The Best of David Spade (TV movie) – Himself (uncredited) 2005
Magacine (TV series) – (1 episode, 2005)
Episode dated 16 September 2005 (2005) 2005
Learn How to Play 'Tonight You Belong to Me' (video short) – Navin Johnson 2005
The Comedians' Comedian (TV documentary) 2005
Saturday Night Live: The Best of Tom Hanks (TV movie) – Himself 2004
Comedy Central Presents: 100 Greatest Stand-Ups of All Time (TV mini-series) – Himself #6 2004
50 Greatest TV Animals (TV documentary) – Himself (in snap shot) (uncredited) 2003
The Source (TV special documentary) – Himself 1999
Saturday Night Live: The Best of Steve Martin (TV special) – Himself/Various Characters 1999
Saturday Night Live Christmas Past (video) – Himself 1999
The Bad Boys of Saturday Night Live (TV special) – Himself (uncredited) 1998
Saturday Night Live: The Best of Mike Myers (video) – Sir William "Nobby" Singin Stevins Smythe Kercy (uncredited) 1998
Saturday Night Live: The Best of Phil Hartman (TV special) – Himself (uncredited) 1998
Classic Stand-Up Comedy of Television (TV special documentary) – Himself 1996
Television's Greatest Performances I (TV special) – Himself 1995
50 Years of Funny Females (TV documentary) 1995
The World of Jim Henson (TV special) – Himself 1994
The Carol Burnett Show: A Reunion (TV documentary) – Himself 1993
Funny Business (TV series documentary) 1992
The Muppets: A Celebration of 30 Years (TV movie) – Himself 1986
The Best of Dan Aykroyd (video) – Georg Festrunk (uncredited) 1986
The Great Standups: Sixty Years of Laughter (TV documentary) – Himself 1984
Johnny Carson's 18th Anniversary Special (TV movie) – Himself 1980
The Muppets Go Hollywood (TV movie) – Waiter (uncredited) 1979
-END-
RUSH PR NEWS newswire and press release services at www.rushprnews.com
www.annehowardpublicist.com