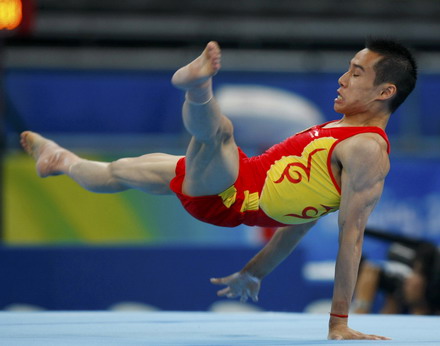 By Lei Lei
BEIJING, (RUSHPRNEWS)AUGUST 12, 2008–China's men's gymnastics team had a perfect start to its Olympic journey on Saturday, beating the second-place finisher by more than five points and earning top scores in three out of six events.The reigning world team champion, it would seem, has only itself to beat in tomorrow's final.
"We performed better than normal today," said all-around world champion Yang Wei after the team's qualification. "Although we made some small mistakes, we did a great gob in general. We are competing at the right time and right place with the support from the people of our country.
"In preparing for this competition, we just focused on ourselves and did not give much thought to the others."
As the defending Olympic champion in Athens four years ago, the Chinese men's team finished only fifth, which was considered a big failure. The gold medal went to Japan that year.
But the team is hungry for revenge on home soil this time.
Although the team has yet to perform its most difficult routines, the six-man Chinese side did not allow its rival to even come close in its strongest events like rings, pommel horse and vault. The team also was impressive on the horizontal bar, its weakest event.
Defending champion Japan came second with 369.550 points, leading the way in floor exercise and high bars. Russia entered the finals in third place, followed by South Korea.
China's world champion Yang Wei came first in the all-around, his best event, while his teammate Chen Yibing also qualified for the all-around final, coming in seventh.
Yang also qualified for the individual rings and pommel horse finals, while rings world champion Chen secured his spot in final for his best event as well.
"Pommel-horse king" Xiao Qin ranked first in his favorite event, and returning Olympic champion Li Xiaopeng topped men's parallel bars.
"I didn't try one of the more difficult actions on the pommel horse, although it can and add 0.1 points to my score," Xiao said. "Without it, my whole routine is balanced and runs smoothly. My first goal in qualification is to perform stably without making big mistakes."
Like Xiao, 2004 Athens Olympic parallel bars gold medalist Li is also saving his most difficult moves for the final.
"The whole team was in good form today and we are very united," said Li, who missed out on training for a couple years following the Athens Games due to injury. "I believe our current condition will last into the final."
The veterans were not the only ones to deliver solid performances. Young gymnast Zou Kai made it to the finals in floor exercise and high bar, and Huang Xu qualified for the parallel bars final.
Team officials were quite satisfied with the performances.
"We had a very good start today and I'm very satisfied with it," said Gao Jian, director of China's Gymnastics Administrative Center. "At the same time, they missed no opportunity to reach the individual finals, which are also medal potentials for China."
Opponents also admitted to the advantages of being the host team.
"I think the Chinese have prepared a great deal," said Japan's Makoto Okiguchi. "The dismount is very important in the finals, and that is a weak point for us."
"The Chinese team has a big advantage compared to us," said Koji Gushiken, head coach of Japan. "In the finals, we will do our best and wait for the Chinese team to make mistakes."
The men's team finals will take place on Tuesday night and will feature eight teams.
NEWS SOURCE: China Daily