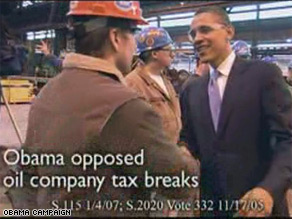 Highlights Obama's Plan to Cut Middle Class Taxes Three Times as Much as McCain
CHICAGO,IL (RUSHPRNEWS) August 20, 2008 – Today, the Obama campaign released a new 30-second TV ad comparing Obama's plan to cut taxes for middle class families and Senator McCain's plan to target billions in tax cuts to big corporations.

The ad, Three Times, highlights how Barack Obama will cut taxes for the middle class three times as much as John McCain. While John McCain wants to give big corporations and oil companies hundreds of billions of dollars in tax breaks, he's offering nothing to 100 million Americans. Obama will provide a $1000 tax break for 95 percent of workers and their families, and not raise taxes on families making less the $250,000 a year.
 
Three Times will air in Colorado, Michigan, Missouri, New Hampshire, Ohio, Pennsylvania, Wisconsin and Virginia beginning today.