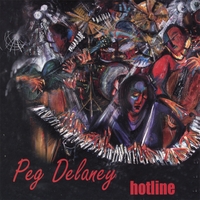 New York Jazz Artist tapped for RI Civic Chorale & Orchestra 50th Anniversary
East Providence,Rhode Island (rushprnews) April 24, 2007- The Peg Delaney Trio of Troy, New York has been chosen to perform at the Rhode Island Civic Chorale & Orchestra's 50th Anniversary Cocktail/Dinner/Dance Event to be held at the Squantum Association on Saturday evening, April 28th.

Peg Delaney, an accomplished Jazz pianist has been awarded the Swingtime Lifetime Achievement Award as a pianist and educator.  She was also professor of music at Saratoga's Skidmore College in fall 2005.
Peg is a two-time recipient of the "Meet the Composer" grant issued by the New York State Council for the Arts and a semi-finalist in Musician Magazine's Best Unsigned Band Competition, her book of transcribed solos by saxophonist Nick Brignola is recognized by the Saxophone Journal, New York State Music Teachers Association and national jazz educators.  She has also been the accompanist for vocal workshops led by Sheila Jordan and Jay Clayton.
The Peg Delaney Trio draws their sophisticated and danceable jazz sound from The Great American Songbook and  Latin Brazilian idioms. The trio includes Bill Delaney on upright bass and drummer / vocalist Earl Davis.
The Civic Chorale & Orchestra is a non-profit musical organization funded partly through fundraising events like this.  Members volunteer for all administrative duties to keep the organization going.  This event will include a silent auction.
The Squantum Association is America's second oldest private club.  For more on Peg Delaney go to www.pegdelaney.com.
For ticket information call 401-521-5670
– 30 –
www.pegdelaney.com,
http://cdbaby.com/cd/pegdelaney
http://cdbaby.com/cd/pegdelaney2
Information in Chorale Gala 50th Anniversary Event:
Ellen Conner (401) 392-3458
Philip Campbell (508) 761-4314, Philipgc2001@yahoo.com
Information on Rhode Island Civic Chorale and Orchestra: www.ricco.org
Information on Squantum Association
http://www.squantumassociation.com/
Information on the Rhode Island Music Scene:
http://www.phattones.net
-END-
RUSH PR NEWS press release and newswire services www.rushprnews.com