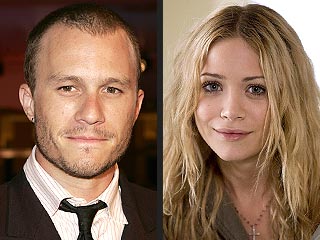 HEATH LEDGER'S DEATH RULED ACCIDENTAL
Subpoena no longer valid because it was contingent on the case remaining open. Case closed.
—Heath Ledger's cause of death: DEA official says subpoena has been issued to star of 'The Wackness' but it is no longer valid since the case has been closed–
By Matthew B. Zeidman
NEW YORK (RUSHPRNEWS) 8/7/08 – Mary-Kate Olsen will have to go before a Grand Jury in the Heath Ledger death, by order of the DEA. She was the first person called by the Oscar-nominated actor's staff when he was found overdosed in January.
Yet that does not usually call for the Drug Enforcement Agency to issue a Grand Jury subpoena on what was reportedly an accidental overdose of legal drugs, which Ledger could have received from any doctor.
Olsen may have requested immunity from prosecution before potentially discussing the source of some of the drugs that caused Heath Ledger's death, but she now may have no choice but to speak on the record. According to Access Hollywood, the Drug Enforcement Administration (DEA) has issued a subpoena, requiring the star of "The Wackness" to go before a grand jury.
On Monday, Olsen's lawyer, Michael C. Miller, addressed his client's cooperation with the government agency through a statement, claiming that the famous twin had already given all relevant information to investigators and that she had no knowledge of the origin of the powerful painkillers in Ledger's system, for which the late thespian had no prescriptions.
The Associated Press cited an anonymous government official Monday, claiming that Olsen had declined twice to discuss the painkillers with the DEA. When called before the grand jury, Olsen would still be able to refuse to answer officials' questions under the Fifth Amendment if answering would constitute an admission to an illegal act.
Olsen became involved in the investigation due to her close friendship with the newest actor to play Batman nemesis the Joker and the fact that Ledger's masseuse, who originally found him unresponsive in his Manhattan apartment, called Olsen several times before calling 911.
NEWS SOURCE Hollywood Today