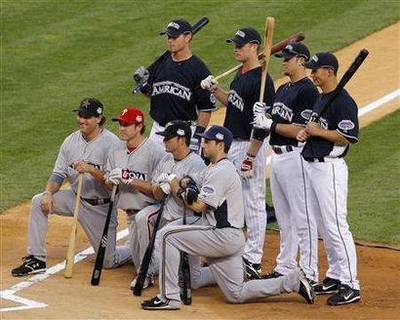 NEW YORK (RUSHPRNEWS)AUGUST 2,2008- – Major League Baseball opened the door to allowing top players to take part in future Olympics on Wednesday and said the league would consider shutting down mid-season if Chicago or Tokyo were selected as host of the 2016 Summer Games.
MLB's refusal to shutdown was one of the reasons why the International Olympic Committee (IOC) axed baseball along with softball from the Olympic programme after next month's Beijing Games.
MLB has insisted it is eager to see baseball remain part of the Olympics but had previously indicated it would never consider shutting down mid-season.
"Major League Baseball, the IBAF (International Baseball Federation) and the IOC are working diligently to have a system where our big leaguers are playing," said MLB vice-president and Team USA general manager Bob Watson during the naming of the Beijing squad on Wednesday. "I think if Chicago or Tokyo would win Olympics for 2016, those countries are baseball countries, and they have venues.
"I believe they are trying to work up something, you have a few years to get a plan. There are a lot of moving parts but don't rule it out.
"It's not too premature to say the minds are turning trying to work things out."
Watson said, some of the discussions had revolved around a plan to extend the current All-Star break long enough to allow a condensed format that would satisfy both MLB and the IOC.
The IOC had also expressed concerns about MLB's disinterest in seriously combating the use of performance-enhancing drugs in the sport but Watson says the league's beefed up drug-testing policy has addressed that issue.
"Instead of a three day break for an all-star game, you might end up have a four or five day break and get all the games in some kind of way using major leaguers," said Watson. "It's not too premature to say the minds are turning trying to work things out.
"Some of the obstacles; drug testing, we definitely met a lot of those requirements.
"We're putting on a real good show around the world with baseball and I believe the Olympics are going to definitely want to have baseball back in the fold.
"We feel baseball is definitely going to get back into the Olympics."