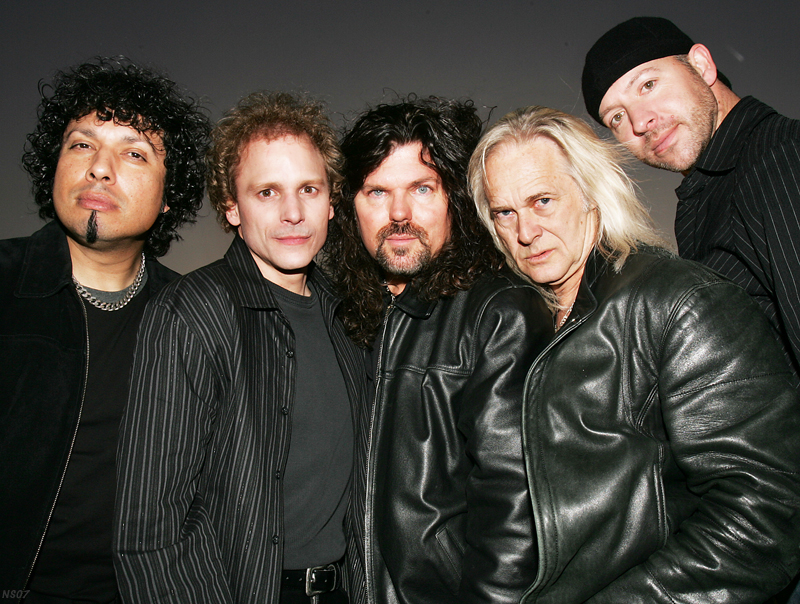 SUMMARY:Nashville, TN (rushprnews) 02/27/2007Â  With 1 million albums sold, Christian metal pioneers Bloodgood have reunited after 13 years and invited Oz Fox of Stryper to join the lineup. A new record is planned for release in 2007, and the band will begin touring this summer, including a headlining performance at this year's Cornerstone Festival.
— Bloodgood exploded onto the Christian music scene when they opened for Stryper in the Pacific Northwest in 1985, after which they recorded their 4-song EP, Metal Missionaries. It was Christian music veteran Darrell Mansfield who brought Michael Bloodgood (bass), Les Carlsen (vocals), David Zaffiro (guitar) and J.T. Taylor (drums) to Los Angeles to record their self-titled debut album for Frontline Records. Bloodgood dared to take Christian hard rock to the next level of intensity and boldness, featuring a more street metal sound not found in any other Christian releases. Stryper had paved the way for commercial metal bands, but Bloodgood opened the doors for the sounds that would eventually lead to speed and thrash metal to be accepted in the Christian market.
When we left on our first tour back in '87, we had three families in our 22′ RV
In 1987, the band followed their national debut with their most successful album, Detonation. Bloodgood hit the road for their first major tour, which almost proved to be their last. Prior to the start of the tour, a popular television evangelist spoke out against them, and protestors began to picket their shows. National media outlets soon came to see what all the fuss was about, but even with all the press, there was no tour circuit for a Christian metal band to tap into so the schedule was filled with dates that were poorly promoted.
"When we left on our first tour back in '87, we had three families in our 22′ RV," says Michael. "To say it stretched us would be an understatement! But we were determined to carry on and no matter where we ended up, we could see the Lord's hand on us."
Making it from one city to the next was a financial struggle, but the band saw the fruits of their ministry as many hardcore unsaved teens came to know the Lord. With that, the band built a reputation as one of the best performing bands and most effective youth ministry's in Christian music.
Several successful projects followed including Rock In A Hard Place, Out of the Darkness and the groundbreaking live double album and video Alive in America and Shakin' the World. After leaving Frontline Records, Bloodgood signed with Broken Records and recruited such talent as producer Biff Vincent, Grammy Award-winning engineer Charlie Watts and legendary drummer David Huff. In 1991, the band went on to record their critically acclaimed album All Stand Together, which produced numerous radio hits including "I Want To Live In Your Heart" and "S.O.S." International touring continued and in 1993, Bloodgood released To Germany With Love, featuring live performances from the final tour of Germany.
Bloodgood has left its mark on the Christian rock music industry. Many of the newer rock bands continue to look them as examples on how to conduct a viable and effective rock and roll ministry. Though inactive as a touring unit since 1993, the band's catalogue has continued to sell through a series of re-releases. In the interim years, Michael became the senior pastor of Calvary Chapel Redmond and Les went on to star in the musical HAIR on Broadway, and established a successful art distribution company in Southern California.
In 2005, Michael was stricken with a near-fatal arterial dissection that left him ill for over four months, leading to paralysis of his left vocal cord. Barely able to talk over a whisper for nearly a year, Michael has since recovered the use of his voice. In addition to pending Bloodgood projects, he is currently working on a worship album along with guest artists including Les and current drummer Mark Welling.
Now, after thirteen years, Bloodgood is back, though they never really left. The band recently acquired the services of Ricky B. Rogers and Fused Management, and they are looking forward to performing live and recording a new album. They have also welcomed a new member. Though not leaving Stryper, Oz Fox is excited to become a part of Bloodgood and will be writing and performing with the band.
A new record is planned for release in 2007, and the band will begin touring this summer, including a headlining performance on the HM Stage at this year's Cornerstone Festival. With nearly 1 million records sold, Bloodgood is looking forward to getting back on the road and reconnecting with fans who have supported the band through the years.
"Even though it's been thirteen years since our last performance, the Lord continues to use our music and ministry to touch lives," says Michael. "Not a day goes by that I don't hear from someone who has been touched by our music, either back in the day, or just recently."
For the latest information on Bloodgood, please visit Bloodgood's official website.
-END-
www.rushprnews.com