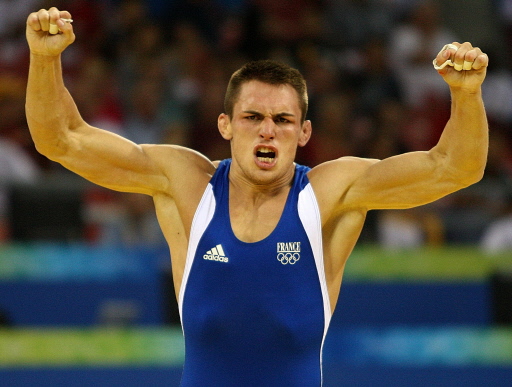 BEIJING(RUSHPRNEWS) AUGUST 13, 2008– French wrestler Steeve Guenot won here Wednesday the first gold medal for his nation in Beijing. Guenot defeated Kanatbek Begaliev of Kyrgyzstan in the men's 66kg Greco-Roman wrestling in the Olympic Games.France sends a strong Olympic team to Beijing but their medal board lacked the color of gold before Guenot's feat, with only seven silvers and two bronzes in most time of the fifth day at Beijing Olympics.
After the comfortable victory, ecstatic Guenot jumped onto a spectators' stand to take a national flag and then unfurled it while running through the competition venue.
France's biggest hope for gold was foiled by China Tuesday night when its sabre fencer Nicolas Lopez was surprisingly defeated by Chinese fencer Zhong Man.