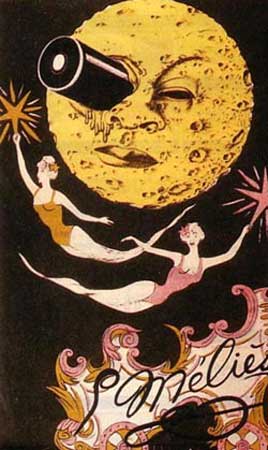 Films of 1907 to Return to Los Angeles and the Bay Area
Beverly Hills, CA (RUSHPRNEWS) November 20, 2007 — "The Dancing Pig," "The Haunted Hotel" and "An Awful Skate; or, the Hobo on Rollers" will be among over a dozen primitive short films to screen at the Academy of Motion Picture Arts and Sciences' presentation of "A Century Ago: The Films of 1907," on Monday, December 3, at 7:30 p.m. at the Linwood Dunn Theater in Hollywood. The program will repeat on Thursday, December 6, at 7:30 p.m. at the Christopher B. Smith Rafael Film Center in San Rafael, California.
The program will present a partial survey of turn-of-the-20th-century international filmmaking with trick films, actualities, primitive dramas and gag films. In 1907 the continuing expansion of local storefront nickelodeons attracted new entrepreneurs to the industry, and producers began to deliver more films with higher production values.
"A Century Ago" will feature such popular box office hits as "The Eclipse," from Méliès's Star Films; "The Little Girl Who Did Not Believe in Santa Claus," from Edison; the first film version of "Ben Hur," from the Kalem Company; a hand-tinted print of "The Red Spectre," from the Pathé Studios in France; and fragments of "The Bandit King" and "The Girl from Montana," both shot in the wilds of Colorado by the Selig company.
Both venues will feature live musical accompaniment by Michael Mortilla.
Most prints are in 35mm and are drawn from the collections of the Academy Film Archive, the Library of Congress, George Eastman House, the Museum of Modern Art, and the UCLA Film & Television Archive.
Tickets to "A Century Ago" in Los Angeles are $5 for the general public and $3 for Academy members and students with a valid ID. Tickets are available for purchase online at www.oscars.org, by mail, or at the Academy box office during regular business hours. Doors open at 6:30 p.m. All seating is unreserved.
The Linwood Dunn Theater is located at 1313 Vine Street in Hollywood. Free parking is available through the entrance on Homewood Avenue (one block north of Fountain Avenue). For additional information, visit www.oscars.org/events or call (310) 247-3600.
Tickets for "A Century Ago" in the San Francisco Bay Area are $10 for the general public and free for Academy members. Tickets may be purchased through the Smith Rafael Film Center. Doors open at 6:30 p.m. All seating is unreserved.
The Smith San Rafael Film Center is located at 1118 Fourth Street in San Rafael. For more information, call the Academy at (310) 247-2688, Smith Rafael Film Center at (415) 454-1222, or visit www.cafilm.org.
-END-
RUSH PR NEWS newswire and press release services at www.rushprnews.com
 www.annehowardpublicist.com
Content- Legal Responsability
Rush PR News is not legally and/or morally responsible for content of press releases, opinions expressed or fact-checking.
Rush PR News cannot be held legally responsible for material published and distributed through its newswire service or published in its press-room and therefore cannot be sued for published material. Third-party must be contacted directly to dispute content.
Rush PR News is not the contact for material published.