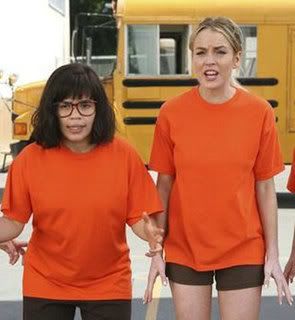 CW lineup a target for Ferrera feud -Ugly Betty's' America Ferrera says 'Gossip Girl,' '90210′ No Good for Girls"
By Matthew B. Zeidman
HOLLYWOOD, CA (RUSHPRNEWS) 9/16/08 – Bloggers, gossip columnists and even "The Soup" were buzzing last month when America Ferrera gave her "Sisterhood of the Traveling Pants 2" co-star, Blake Lively, an impatient and disbelieving look during a promotional television interview that eventually became all about her salacious CW drama, "Gossip Girl."

Though Ferrera made no comment directly after the "Good Day LA" incident, she has taken aim at Lively's bread and butter in the October issue of Seventeen magazine, where she also questioned the effect fellow CW teen soap "90210" and MTV melodrama "The Hills" were having on young girls.
"…if you're watching "The Hills" or "90210," all the backstabbing shapes the way we act," Ferrera told the publication. "You go to school, and you think your job is to find a sworn enemy and be jealous of each other."
The "Ugly Betty" star also took the time to lament the lack of genuine female relationships on the big and small screens and criticized "Gossip Girl" and its ilk for conditioning female viewers to treat others badly. She did make it clear she bore no ill will toward Lively, herself, however, calling her "a wonderful friend" and underscoring her close relationships with all her "Sisterhood" co-stars.
Ferrera is not alone in her dislike of "Gossip Girl,' which has been criticized as a corrupting influence by the Parents Television Council (PTC), a conservative media watchdog group. The CW attempted to capitalize on the controversy by including "Mind-Blowingly Inappropriate," a stamp given to the show by PTC, in its latest advertising campaign. It also included "Every Parent's Nightmare," taken from a piece by the Boston Herald, as well as "A Nasty Piece of Work," taken from a New York Post article.
SOURCE : Hollywood Today