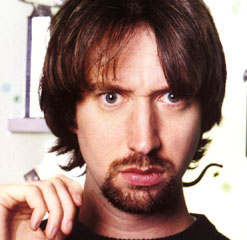 Arch Entertainment Begins Principal Photography on Snowboarding Comedy "Shred" Starring Tom Green
Peace Company Holds Worldwide Distribution Rights to New Film
TORONTO–(rushprnews)–Mar 27, 2007 — Peace Arch® Entertainment Group Inc. (AMEX:PAE – News) (Toronto:PAE.TO – News) announced today that it has begun principal photography in Okanagan, Canada on the feature film "Shred," a snowboarding action comedy to be released later this year prior to the start of the 2007-2008 ski and snowboarding season.
The beginning of principal photography continues Peace Arch's business strategy of assembling a diverse annual slate of new film and television programming through in-house production and third-party acquisitions and generating revenues by the worldwide distribution of that content.
In "Shred," two washed-up snowboarders must transform a gang of misfit "shredder" wannabes — including a midget, an 80-year-old lady, a biker and a chubby kid — into professionals before their boyhood nemesis has them all banned for life and plows over their fledgling snowboarding camp.
"The action-sports audience is very sophisticated about stunts and the snowboarding scenes, so the filmmakers have ensured authenticity and credibility by bringing in world renowned extreme sports experts to advise and supervise all facets of production," said John Flock, President of Peace Arch Entertainment.
"Shred" is produced by Shred Films, Inc. and will be distributed worldwide by Peace Arch Entertainment. The film's producer is Randy Cheveldave, with Jackie Kelly, Kate Harrison and Lewin Webb executive producing.
The celebrity ensemble cast of "Shred" includes MTV alumni Tom Green ("Stealing Harvard," "Road Trip") and Dave England (of "Jackass" fame), as well as Renee Renee (actor, snowboarder, skateboarder and host of Slam City Jam skateboard contest). The film is written and directed by veteran David Mitchell and features appearances by numerous pro snowboard riders including the notorious Wildcats, Ross Rebagliati and more.
About Peace Arch Entertainment Group Inc.
Peace Arch Entertainment produces and acquires feature films, television and home entertainment content for distribution to worldwide markets. Peace Arch owns one of the largest libraries of top quality independent feature films in the world, featuring more than 500 classic and contemporary titles. Through its subsidiary, Peace Arch Home Entertainment, Peace Arch is also one of the leading distributors of DVDs and related products in Canada. For additional information, please visit www.peacearch.com.
For more investor-oriented information about Peace Arch Entertainment, visit http://www.trilogy-capital.com/tcp/peace-arch/. For current stock price quotes and news, visit http://www.trilogy-capital.com/tcp/peace-arch/quote.html. To view an Investor Fact Sheet, visit http://www.trilogy-capital.com/tcp/peace-arch/factsheet.html. To read a transcript of a recent Peace Arch investor conference call or listen to an archived recording, please visit http://www.trilogy-capital.com/tcp/peace-arch/conference.html.
Forward-Looking Statements
This press release includes statements that may constitute forward-looking statements, usually containing the words "believe," "estimate," "project," "expect," or similar expressions. These statements are made pursuant to the safe harbor provisions of the Private Securities Litigation Reform Act of 1995. Forward-looking statements inherently involve risks and uncertainties that could cause actual results to differ materially from the forward-looking statements. Factors that would cause or contribute to such differences include, but are not limited to, continued acceptance of the Company's products and services in the marketplace, competitive factors, dependence upon third-party vendors, availability of capital and other risks detailed in the Company's periodic report filings with the Securities and Exchange Commission. By making these forward-looking statements, the Company undertakes no obligation to update these statements for revisions or changes after the date of this release.
Distributed by Filing Services Canada and retransmitted by Market Wire
Contact:
     Contact:  

     Roy Bodner 
     Vice President Public Relations 
     Peace Arch Entertainment 
     (310) 450-1711

     Or  

     Financial Communications 
     Trilogy Capital Partners 
     Ryon Harms 
     (800) 592-6067
Source: 
Peace Arch Entertainment Group Inc.
-end-
RUSH PR NEWS press release services www.rushprnews.com
www.annehowardpublicist.com