Today anyone can get their book out on the market because, in case you haven't heard, self-publishing a book has never been this easy. Nowadays, there are countless online tools to bring your manuscript to life, give it a professional look, and sell your books online. With your writing talent to attract young readers and this guide, you'll be on the right path to knowing how to self publish a children's book.
1. Write –and Finish– Your Story
Take time to outline and develop your story. Once, a writing teacher told me to remember that children are really smart individuals, so writers shouldn't underestimate their understanding, and he was right. Children's books should be entertaining and amusing, not homework or try to follow some kind of agenda to change their minds.
Write a story that's fun, with interesting characters and unexpected plot twists and, most importantly, don't try to teach them a lesson; they'll know and discard your story right away. Keep in mind that children's stories are for them to enjoy; school and authority figures in their lives are the ones who lecture them, so reading time should be gratifying.
Follow a Writing Regime
To get your book published you need to take time and have a lot of discipline to write. Plan your writing, set a time –mornings or evening– and focus on that; you can also use these tips to establish a writing routine:
Set small goals that can be measured. For example, set a goal to write 3000 words a day, two pages for five hours or a complete chapter per week. The thing is to reach these milestones to see and measure your progress.
Commit to making time to write. Waiting to find some spare time will only get you so far; every successful writer started with a blank page and ended up with a beautiful result after hours of hard work. You can also set a specific time of day when you are more productive, for some people this is mornings, for others late evenings work best.
Get a writing space. This is especially helpful if you already know how you get inspired the most, and can work to limit your distractions. It could be a public spot or a cozy room at home, but you need it to be a place where you can focus completely.
Plan Your Budget
The budget for any book always depends on the length, the quality you're looking for, the format, and if you're collaborating with an illustrator or creating illustrations yourself.
If you're going to ask for help during the process, write down the rough costs of editing, illustrating, and designing.
The following are average editing costs for a 30,000 word book, considering it'll be written for 12 year olds and younger:
Editing: About $720 USD
Proofreading/copy editing: Between $300 and $550 USD
Assessment: About $400 USD
Cover design: Between $500 and $1500 USD
2. Edit and Proofread
A lot of successful self-published authors often like to proofread and edit their own work. By doing so, you can save a lot of money, and keep your style exactly as you want it published.
The downside of editing your own work is that you may overlook mistakes after reading it several times, so think about getting at least another professional to take a look at your manuscript, point out mistakes, and make stylistic corrections.
When working on a children's book, illustrations and graphics are a must, so make sure they're the right size for printing or optimized if you're going for an ebook. The maximum width for an ebook image is 659 px and its resolution should be 72. If they're too large, you can use an image cropper and get the exact sizes you need.
3. Design a Beautiful Book Cover
People –children in this case– do judge a book by its cover, so you'd better have an eye-catching one. Many successful self-published children's book authors have other creative skills such as illustration or graphic design, and you should give this a go. In my experience, it's worth the effort because you get the chance to portray your work exactly as you imagine.
Of course, you can hire a pro designer, but that could raise the cost, especially when making changes to the cover design. Think about it, you can also get great results by working with online tools made exactly for design purposes, without even closing your browser.
In addition, if you want to experiment and see how it goes when you creating your own visual assets for the book, and you're new at this, my best advice is to go for simplicity; in the case of children's books, effortless doodles could actually be a good idea.
The advantage of illustrating the pages of your book is that you can put faces on your characters, set the ambiance, and play with the tone of your story.
You can also choose to create your own book cover using online tools that already have a graphic line and templates for children's books. Once you create one, see what it would look like using a book mockup, and get one step closer to selling it online.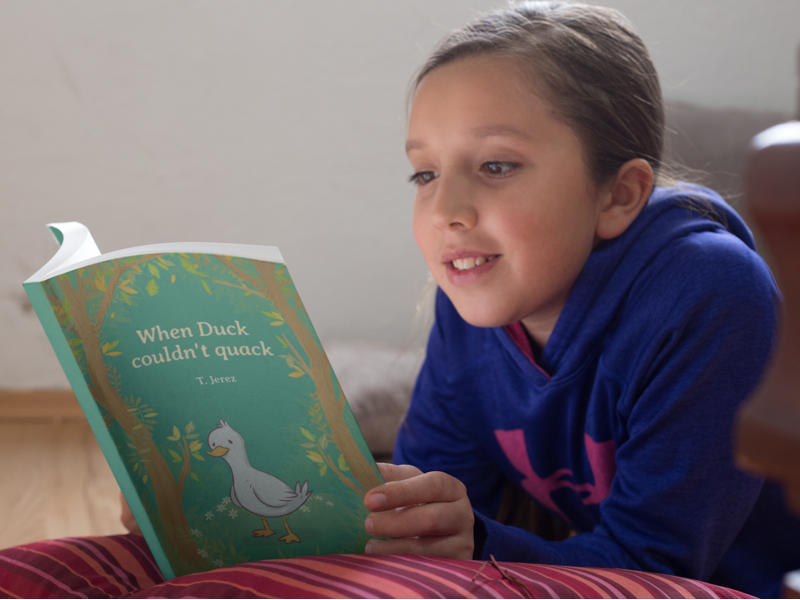 4. Publish Your Book
This is the most important part of knowing how to self publish a book because there will be different ways to promote it, and it's totally up to you… But first, the copyright.
Register and Get an ISBN Number
Visit a copyright office nearby to get information about how to register your work, and protect it from plagiarism. If you don't know where to find one, you can ask for assessment online and learn about your responsibilities while registering your material.
You should also get an ISBN number, which is a 13 digit universal code to identify and track your book. This is not mandatory, but it will work in your favor since you become part of an international book catalog.
If you choose to do so, this should be in your budget, because getting a single ISBN costs about $125 USD, and you'll need one for each format you choose to publish your book.
H3. Where to Publish?
You can choose to print your book and sell it online, look for a deal with a bookstore, or you can publish and sell your books on different online platforms like Kindle, Lulu, Google Play, Barnes and Noble Press, and many others.
This last option is the fastest one and you can do it at home, but that doesn't mean you get to do it for free. Ebook distributors have fees too, and Amazon, for example, offers you lots of promotional advantages to get exclusivity.
To publish your books on Amazon and know more about the requirements, follow the steps on Kindle Direct Publishing.
5. Start Promoting!
Now that you know how to self-publish a book, it's one step away from being ready to go on sale for all your little readers. Before it's ready to go online or available at bookstores, think about how you're going to promote it.
Build a Marketing Strategy
Promote your book on different social media platforms. Start your own Facebook page, perhaps an Instagram profile, and a YouTube channel if you're into producing your own videos.
Here are a few ideas for your marketing strategy that could be useful:
Plan a book launch event. Even if it's an ebook, you should be planning a launch event to get to know your young readers. They will be delighted to meet the author and get a special offer for when they get the book.
Contact a booktuber. Search for a YouTuber that reviews children's books and ask for their collaboration. Most of them have fees for these kinds of business inquiries, so it's your chance to negotiate a good deal.
Run targeted ads on Facebook. You can't target your audience directly, but you can target their parents, who will ultimately be the ones who pay for your book.
Price promotions on Amazon. As it was stated before, Amazon offers a variety of deals to boost your sales on Kindle Publishing. Think about it as a side tactic, but not the only one.
Create a mailing list. If you already have a blog or a website, start a mailing list with those who have subscribed to it, and tell them about your great news.
If you've made it this far and put real effort into knowing how to publish your own book, make sure your readers can identify you as an author! Start by creating a brand for yourself, and create a logo that speaks for you. An easy way to do it is by using an online logo creator. There are lots of options for writers.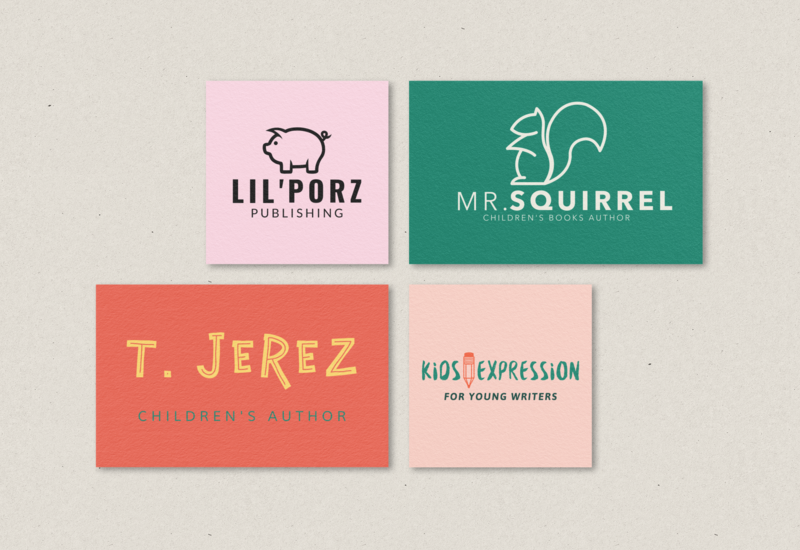 Self-publishing is easy if you have enough discipline and love for books. Make sure you give your children's book the effort it deserves. Share your tips if you already are a self-published author!